Sports in India have been steadily growing and developing in recent years. The Indian government and private organizations have been investing in the development of sports infrastructures. Such as stadiums, training facilities, Sports Wearable Technology, and sports academies, to support the growth of sports in the country.
Domestic Sports Leagues
Domestic sports leagues such as the Indian Premier League (IPL) for cricket, Indian Super League (ISL), Premier Badminton League, and Pro Kabaddi League have gained widespread popularity in India, attracting top talent and large audiences. 
Youth Sports Program
There has been an increase in the number of youth sports programs in India, including school-based programs and community-based organizations. These programs have helped to introduce more young people to sports and create opportunities for them to participate.
Role Of Media
The growth of sports in India has been supported by increased media coverage, both in traditional media outlets such as television and print, as well as online platforms. Sports technology has a vital role in the players' performance enhancement and fans' viewing experience. It has helped to raise the sport's profile in the country and make them more accessible to a large audience.
Indian Football Struggle 
But still, Indian Football is struggling to enhance their game and engage fans towards the game. They need to take inspiration and adapt a few strategies from other sports to engage people. 
New Hope
AIFF just announced their Target 2026 & Vision 2047. They are focusing on 11 essential points. We already have such evolved sports in India, which has become a crucial organization internationally, the Board Of Control Of Cricket In India. And they are literally controlling the game. 
AIFF Can Learn From BCCI & Other Sports
The All India Football Federation (AIFF) can learn from the success of cricket and other sports in India in several ways: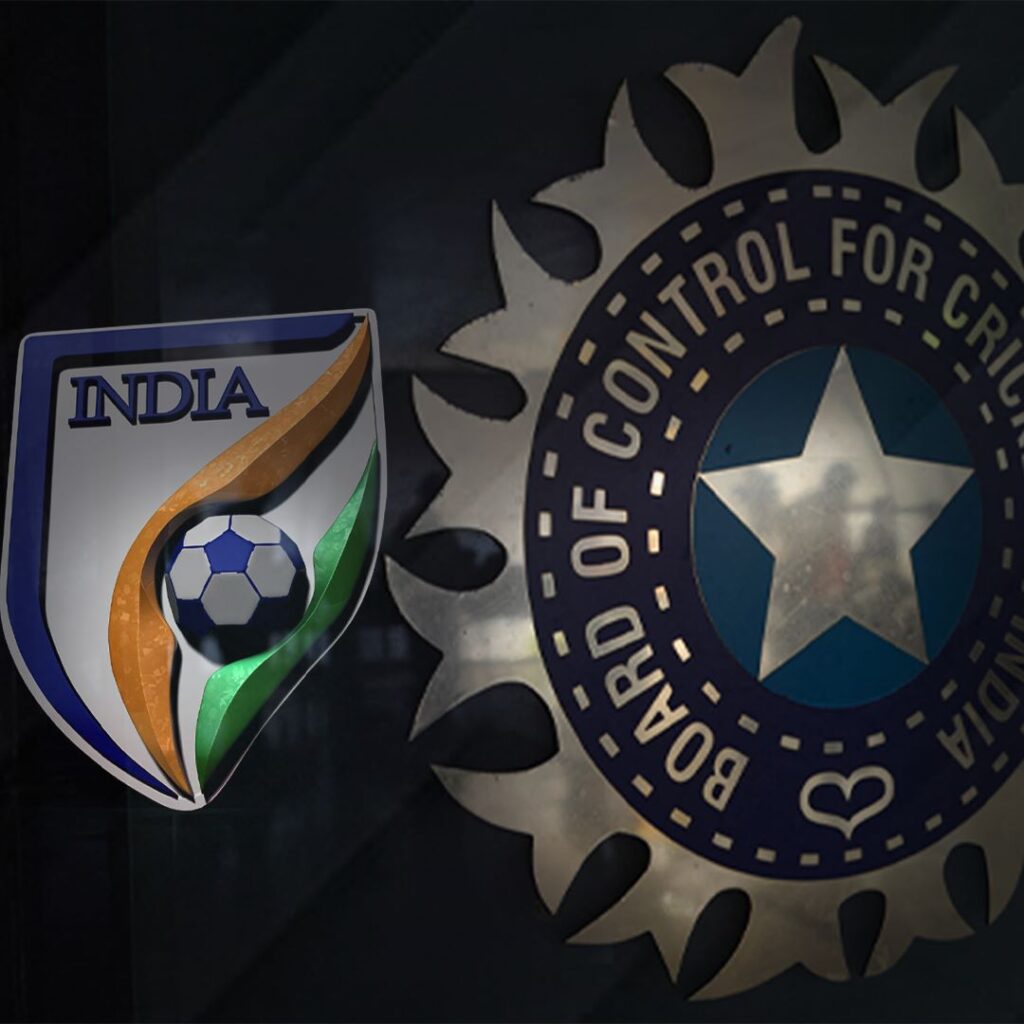 The BCCI Strategy:
1. Emphasize The Development Of Youth Programs
BCCI (Board Of Control For Cricket In India) focuses on developing youth programs and cultivating talent at the grassroots level with domestic tournaments in every state.
The AIFF could consider adopting similar strategies to help create a strong pipeline of talented young football players in India.
2. Invest In Infrastructure And Facilities
Cricket in India has benefited from significant investment in infrastructure. Like stadiums and training facilities. BCCI has provided a whole setup for professional players in Bangalore, NCA (National Cricket Academy). When cricketers are not playing or are injured. They spend time in the facility for rehab and fitness to get available for International games by clearing the Yo-Yo test.
The AIFF could consider working with government and private organizations to invest in similar infrastructure to support the growth of football in India.
3. Create Engaging Domestic Leagues
Cricket in India has succeeded in creating engaging domestic leagues that attract top talent and large audiences. Cricket has not just created IPL to make it big, but the efforts put behind the scenes played a vital role. There is a proper state-wise domestic circuit. Ranji Trophy, Vijay Hazare Trophy, Syed Mushtaq Ali Trophy, TPL, and many more. Players perform in these leagues. Then the Talent scout of each IPL team marks them according to the team requirements. That's how domestic players with talent from nowhere get the opportunity. They learn from experienced coaching management and international players.
The AIFF could consider developing similar leagues to help increase the popularity and profile of football in India.
4. Partner With Corporate Sponsors
Cricket has successfully attracted corporate sponsors, which has helped to fund the development of the sport and increase its reach. Every player in Indian cricket in itself is a brand. AIFF needs to promote their talented players more to grab the attention of the fans and needs to build belief. BCCI created a system in which every player playing on the national level will get paid to run houses while pursuing a career in their favourite game.
The AIFF needs to consider working with corporate sponsors to help support the growth of football and players in India. Many young talents gave up on their dreams because of not getting the required opportunities and salaries.
5. Increase Media Coverage
Cricket in India has benefited from increased media coverage, which has helped to raise its profile and make them more accessible to a large audience. Now fans can access all the players' information and performance data on their mobile. Connecting players to the audience emotionally can be effective.
The AIFF could consider working with media outlets to increase football coverage in India and make it more visible to the public.
Khelo India Effect:
Khelo India is a national program that aims to promote sports and physical activity among young people. The program has had several impacts on the road map of Indian sports.
1. Increasing Participation
Khelo India has helped to increase participation in sports and physical activity among young people by providing funding for training and equipment, as well as hosting events and tournaments.
2. Developing Talent
It has provided young athletes with access to coaching and training facilities, as well as opportunities to compete at the national and international levels. It has helped to identify and develop talented young athletes in a variety of sports.
3. Promoting Health And Wellness
It has helped to raise awareness about the importance of physical activity and its role in promoting health and wellness. It has contributed to a greater emphasis on sports and fitness in Indian society.
4. Fostering A Culture Of Excellence
Khelo India has helped to create a culture of excellence in Indian sports by setting high standards for performance and providing incentives and rewards for athletes who excel.
Learning For AIFF
While considering all this, AIFF needs to focus on Sports Technology and an experienced management system to take Indian football to the next level. It is a long burn process to achieve success and needs to be done from the grass-roots level.
Sports Wearable Technology, Footrax Can Enhance Football On a Grassroots Level
Footrax has the potential to enhance football on the grassroots level.
Improving Player Performance
Footrax can help players at the grassroots level identify areas for improvement and make more informed training and conditioning decisions. It could lead to better results on the field and help players reach their full potential.
Facilitating Talent Identification
Footrax's ability to track and analyze a wide range of performance metrics can make it easier for coaches and scouts to identify talented players at the grassroots level.
Promoting Healthy Competition
Footrax can help create a more competitive and fair environment with accurate measurements for players at the grassroots level.
Providing New Opportunities For Engagement
Footrax could help create new opportunities for players at the grassroots level to connect, interact, and engage with one another.
It could help identify young talent, improve performance, create a community, and reach the next level.