The first evening of the Fifa world cup 2022 kicked-started in Qatar with so much news floating around regarding laws implemented by the government official for fans while watching football. No alcohol during matches and no short clothes for women. As Indian football fans, we were thinking, what concern do we have to face? We are not going to Qatar! And will watch the match with friends while having booze and discussions about football. It is going to be a beautiful and comfortable ride to the opening day.
But,
Like many of you, it was a hard day at home finding the streaming app, which is broadcasting the matches. Many people subscribed to VOOT to enjoy the event. But, Viacom 18 had some other ideas. They shifted World Cup online streaming to Jio Cinema from VOOT. This decision was taken based on a larger user base.
Well, it's okay, we will watch it on the Jio Cinema. Big Deal!
The match started and all were eager to see how everything would go. Will Qatar be able to beat Ecuador, or is it going to be a tight match between the two? But the real match was between the viewers and the Jio Cinema App. It was a hard time for everyone to watch the match in the saga of buffers the way we used to watch YouTube 10-15 years back.
The Ecuador player is inside the Qatar team's box, and it's a penalty.
Buffer!
Everyone is waiting in front of the Smart TV for the replay. Replays come.
Buffer!
Valencia is taking the penalty. He kicks the ball.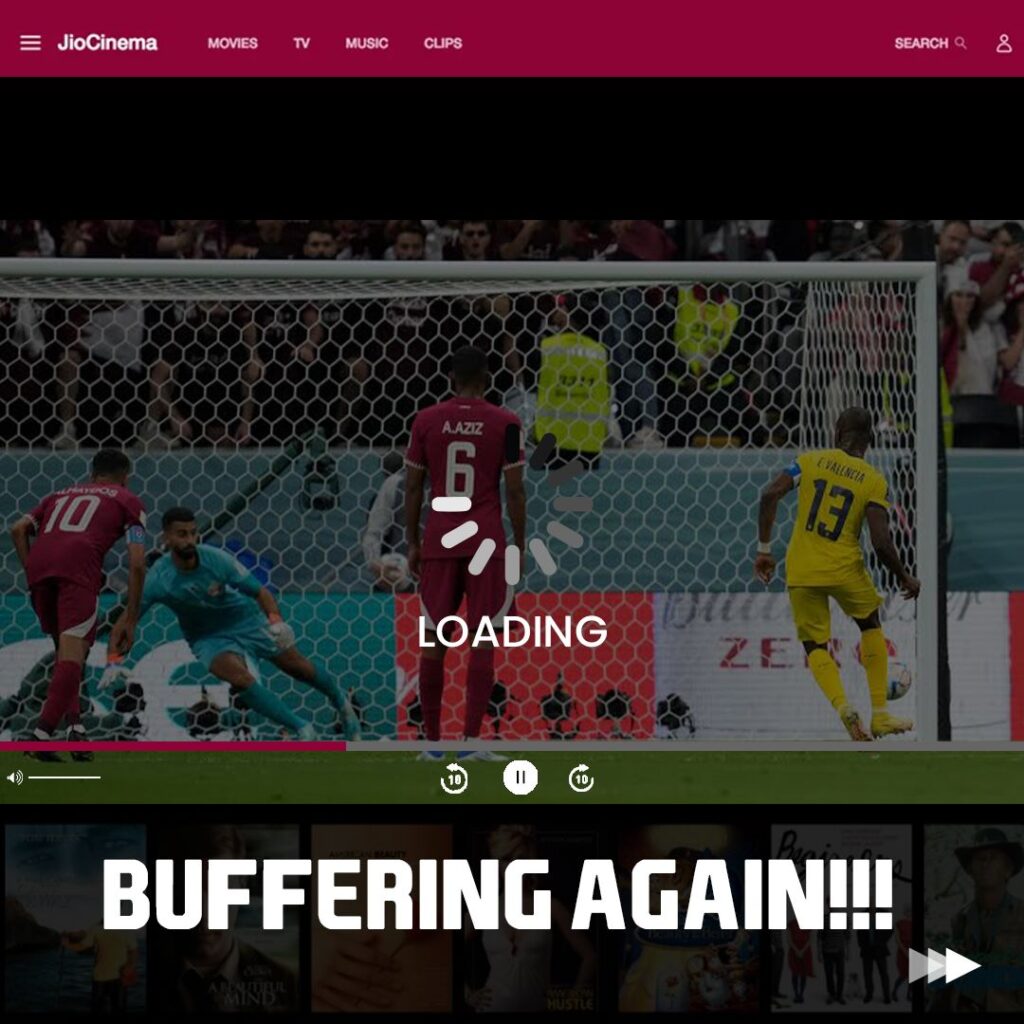 It's a goal.
Things went on like this during the whole match. Ecuador wins the opening match. Qatar was the first host team in world cup history to lose the opening game. But the real news from India is that Jio Cinema is still buffering, and the match is over. Hopefully, this issue will be sorted out as soon as possible because real matches are about to come and they are gonna be epic.
Football fans are waiting for some real action from the stadium and home in front of their TVs. All they need is a good football match experience and memories without restrictions and buffers.
Hoping to watch a good football match without any interruptions.