You adore your favourite football team and players. You like to replicate their game and actions during game time. But the information you are getting about such team and players are quite limited for understanding their playing style. One needs to know the core preparation and efforts it took to be at that level. For such insight and data, Football Tracker GPS devices play a crucial role. With Performance Tracker For Football, national team coaches and talent scouts can identify players who consistently perform at a high level, domestically and internationally. 
The selection of professional football players based on performance data analytics and statistics is becoming increasingly prevalent in the modern game. Many national teams and clubs now incorporate data-driven analysis to identify talent and make informed decisions. 
This approach allows for a more objective evaluation of players, removing potential biases and focusing on objective performance indicators.
However, it's important to note that football tracking devices and player analysis are just one component of player evaluation. Factors such as teamwork, leadership, mentality, and adaptability are crucial in the selection process. 
Ultimately, the combination of traditional scouting methods and data analysis offers a more comprehensive approach to player selection, ensuring the best possible representation for professional football teams.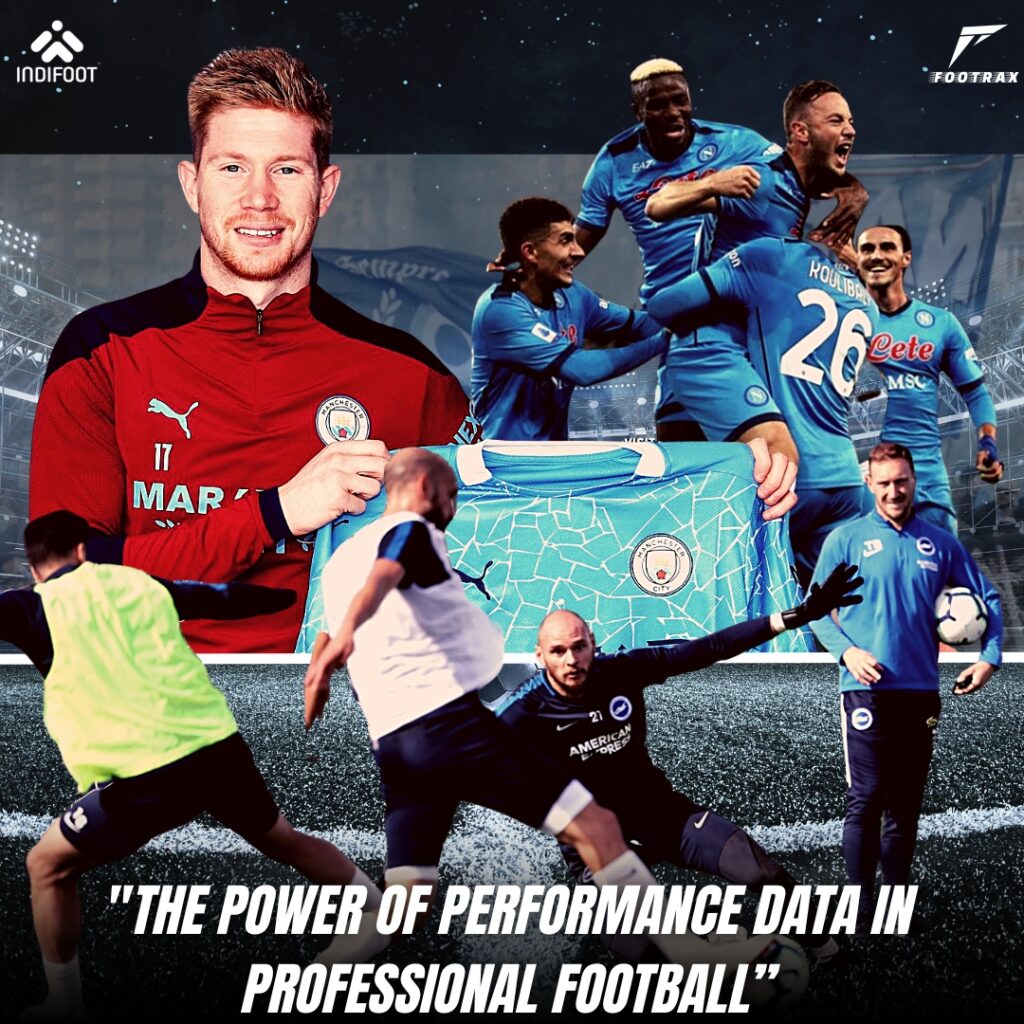 Football Tracker Benefiting Professional Clubs & Players
Many professional teams are approaching the new sports technology to enhance their team performance and it is helping them to scout talented players at the very early age of their career. This technology helps team and player to understand their game more effectively.
Football Tracker for the Selection of Professional Players
1. Brighton & Hove Albion & Football Tracker
Brighton & Hove Albion's remarkable journey from a third-tier league team to a top competitor in the English Premier League exemplifies the transformative power of data-driven decision-making in sports. 
Through the integration of sports analytics and mathematical modeling, Brighton strategically identified and acquired talented players meticulously built a well-rounded team and made informed decisions regarding player salaries. 
Players like Kaoru Mitoma, Julio Enciso, Pervis Estupinan, Tariq Lamptey, and many more players are the find of the performance data analysis.
This data-driven approach played a pivotal role in their ascent to the top tier and ultimately culminated in their stunning victory over Liverpool in FA Cup (2-1) and premier league (3-0).
Brighton's success story highlights the significance of data-driven decision-making, particularly in maximizing performance per dollar and optimizing player recruitment. 
Despite the significant disparity in annual salaries between the two teams, Brighton's commitment to utilizing data and advanced analytics enabled them to identify undervalued talent and construct a competitive squad.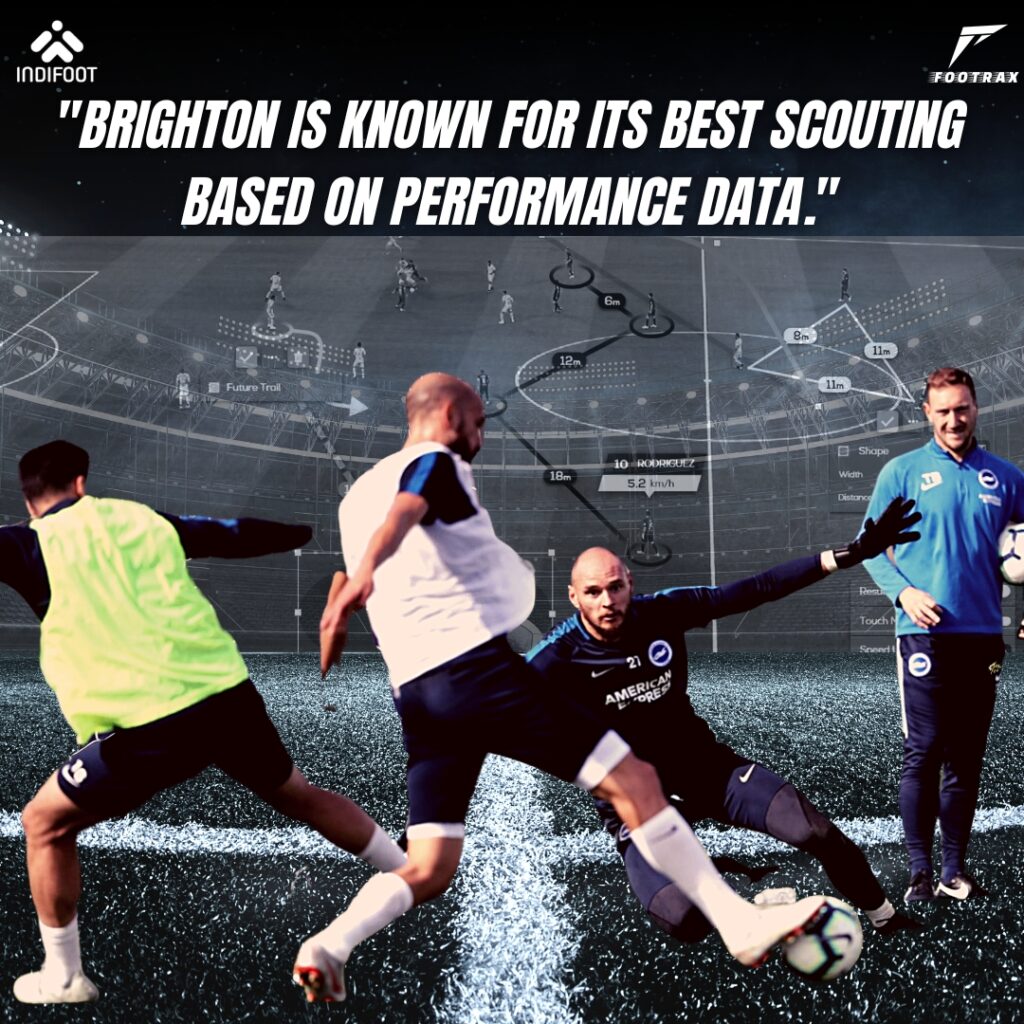 Their success challenges the notion that financial resources alone determine a team's performance and showcases the potential for data-driven strategies to level the playing field in professional sports.
The remarkable rise of Brighton is a testament to the power of data and technology in revolutionizing the sports industry. 
As other teams observe the impact of Brighton's data-driven approach, it is anticipated that more organizations will embrace innovative methods to gain a competitive edge.
This GPS tracking will be a useful addition to grassroots football. It will help them a little to bridge the gap between professional football and non-elite talented players. 
2. Football Player Tracker – Napoli And Their Success
Napoli has embraced the power of data analytics in their decision-making processes, particularly in the transfer market. 
With a dedicated data analytics team, the club leverages data analysis to drive its recruitment strategies, player development plans, and tactical approaches on the field. 
Napoli has enhanced their overall performance and competitiveness in Serie A by harnessing the insights provided by the GPS performance tracker.
A prime example of their data-driven approach is the signings of Victor Osimhen and Kim Min-Jae. Through thorough analysis of his performance data, statistics, and physical attributes, Napoli's data analytics team identified Osimhen as a player with immense potential.  
Victor Osimhen- Serie A
| | | | |
| --- | --- | --- | --- |
| Year | Matches  | Goals  | Assists |
| 2022-23 | 32 | 26 | 4 |
| 2021-22 | 27 | 14 | 2 |
Kim Min-Jae proved to be the best buy for them. His strength in the air and tackle quality in the defensive position attracted Napoli. This football monitor evaluation allowed the club to make an informed decision and confidently invest in the talented forward, despite the significant transfer fee involved. 
By integrating data analytics into its decision-making process, Napoli has gained an edge in the highly competitive world of football transfers. As a result of that, They Won the Serie A in 2022/23.
Football tracking device and Performance Tracker For Football App can create a social community for academies, clubs, scouts, and players to approach each other at the grassroots level.
3. Football Tracker – Brentford Has Gain Respected Position In The Premier League
Brentford has gained recognition for its data-centric approach to player recruitment and development, revolutionizing the way football clubs utilize data analytics. 
With an innovative mindset, the club employs advanced statistical models and machine learning algorithms to uncover hidden gems among young players. 
By analyzing performance data, physical attributes, and various other factors. Brentford has successfully identified promising talents. Who may be overlooked by other clubs? Ultimately, giving them a competitive advantage in the Premier League.
A prime example of their data-driven success story lies in the acquisition of Ivan Toney. Leveraging their data analytics capabilities, Brentford's team identified Toney as a player with exceptional potential, supported by his impressive performance data and favourable physical attributes. 
Furthermore, their analysis revealed that Toney was undervalued in the transfer market, presenting a remarkable opportunity for the club. By securing Toney's services at a fraction of the cost compared to their Premier League counterparts. Brentford showcased its tactical decision-making and strategic use of data analytics. 
Since joining Brentford, Toney's goal-scoring prowess has been evident, propelling the club to secure promotion to the prestigious Premier League.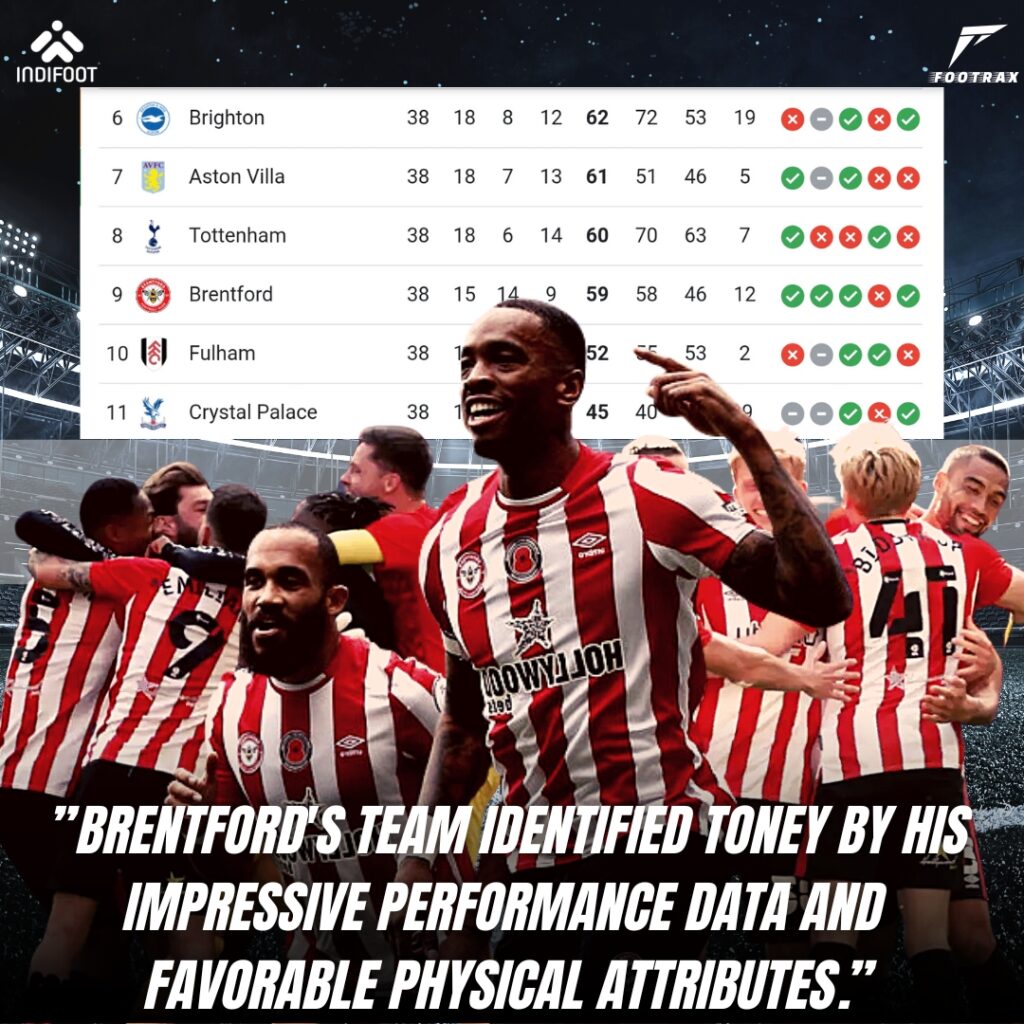 Premier League- Ivan Toney
| | | | |
| --- | --- | --- | --- |
| Year | Matches | Goals | Assist |
| 2022-23 | 33 | 20 | 4 |
| 2021-22 | 33 | 12 | 5 |
Championship
| | | | |
| --- | --- | --- | --- |
| Year | Matches | Goals  | Assists |
| 2020-21 | 48 | 33 | 10 |
With the help of the playmaker football tracker, clubs and academies can find talented playmakers at the very early stages of their growth. Later, coaches can use Football Distance Tracker to understand player stamina, strength, agility, and many other metrics.
4. Football GPS Tracker Performance Metrics- De Bruyne Negotiated His Deal With Manchester City
De Bruyne took a proactive approach to securing his future at Manchester City by enlisting the help of data analysts. 
Through comprehensive data analysis, he was able to showcase his immense value to the team and demonstrate how he contributes to their success. 
Armed with this information, De Bruyne negotiated a new contract that reflected his influential role within the squad, resulting in a significant pay rise. 
The revised deal solidifies his position as the highest-earning player at Manchester City, with an annual salary of £20.8 million. 
This story exemplifies the growing importance of data-driven decision-making in contract negotiations and highlights the impact of leveraging data to showcase one's value in professional football. 
Kevin De Bruyne- Premier League
| | | | |
| --- | --- | --- | --- |
| Year | Matches | Goals  | Assists |
| 2022-23 | 32 | 7 | 16 |
| 2021-22 | 30 | 15 | 8 |
There are many countries, where football is rising and there is scope for many young players to get a chance to be part of their favorite sports. Football GPS tracker and its performance metrics can help players to understand their game and worth.
5. Liverpool Build The Best Team Using GPS Performance Football Tracker & Won The League
GPS Football Tracker played a crucial role in building a young blood team. While Coutinho was the main protagonist during his time at Liverpool, the current team showcases a dynamic cast including Alexander-Arnold, Robertson, Salah, Firmino, Mane, Van Dijk, and the defence.
They each play various roles in the goal story, contributing as initiators, propagators, protagonists, twisters, teasers, and finishers. This diversity extends to set plays, corners, and accurate long passes, enhancing the team's goal-scoring capabilities.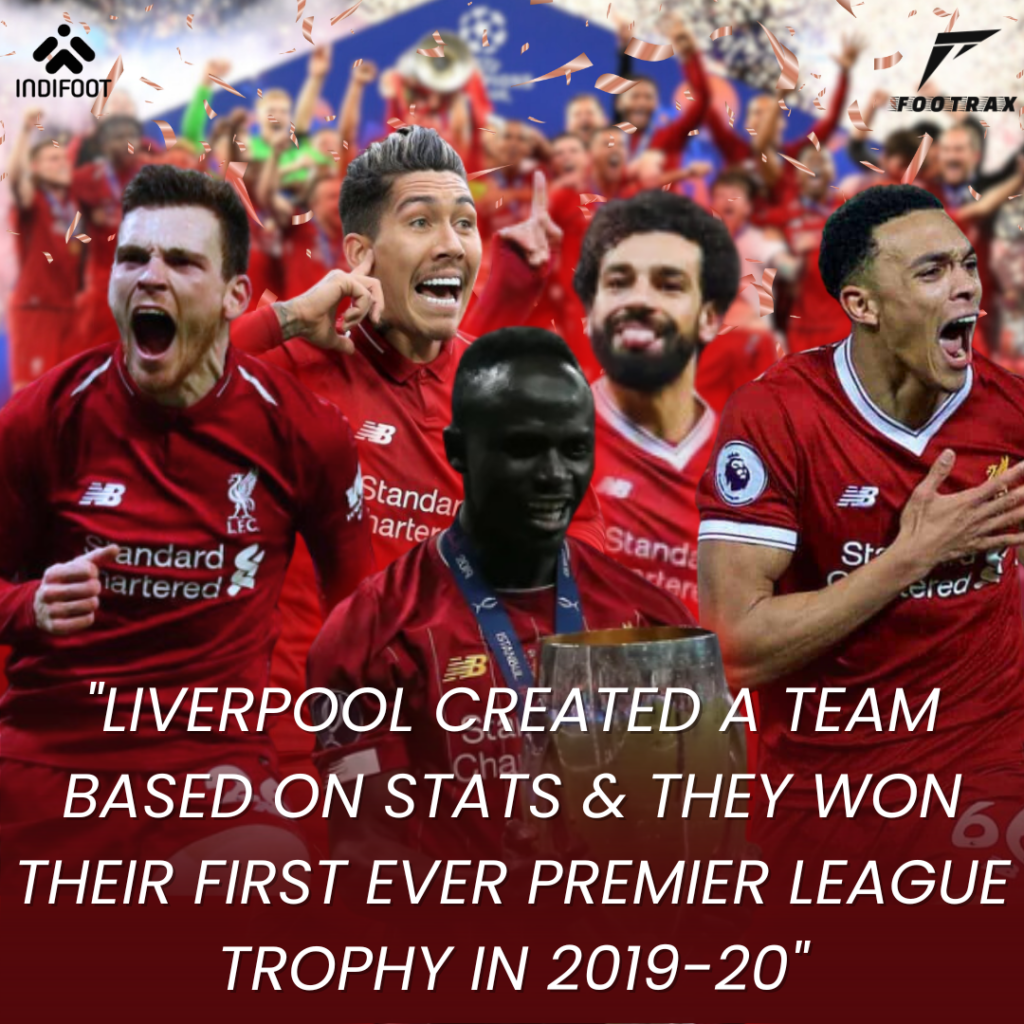 Opposition Analysis
Liverpool management analysed the opposition game and prepared their player accordingly considering all their strength and weaknesses. It helped the team to perform like champions as a group, and the results were there. Liverpool won its 1st Premier League title in 2019-20.
Liverpool Players in 2019-20
| | | | |
| --- | --- | --- | --- |
| Players | Matches  | Goals  | Assists |
| Mohamed Salah | 34  | 19 | 10 |
| Roberto Firmino | 38 | 9 | 8 |
| Sadio Mane | 35 | 18 | 7 |
| Trent Alexander-Arnold  | 38 | 4 | 13 |
| Andrew Robertson | 36 | 2 | 12 |
Football Stat Tracker For Clubs
Teams and Players can get access to all the stats developed during the game. It will help them to understand their game.
Playmaker Football Tracker
Players can enhance their game. The team can create a strategy according to team combination.
Teams can analyze the performance data of opposition team players to develop tactics during the game.
Having specific information about players' game styles creates a more competitive surrounding among everyone.
Football Distance Tracker For Players
Football Tracker Vest 
Players can work on their training regime to develop skills. It helps them to know their strength and weaknesses. 
Coaches and players work together to tick all the boxes required to be a game fit. 
Performance Tracker For Football App
Players can track the distance they cover during the game and it helps them to analyze other metrics like distance covered per minute, average speed, no. of sprints, average work rate, etc.
Performance Tracker For Football
Soccer Tracker
These players and teams demonstrate how performance data and statistics can help identify talent and contribute to the selection process at both club and international levels. 
However, it's important to remember that Football Tracker performance data is just one aspect of player evaluation, and other factors such as teamwork, character, and overall contribution to the game are also considered.
GPS Performance Tracker
Footrax is providing a performance tracker for football at the grassroots level to assist young talents to understand their game and teamwork by understanding other players' strengths and weaknesses. 
Football Player Tracker- FAQs
Q. How do GPS Football trackers work?
GPS football trackers utilize technology to accurately track players' movements on the field. The trackers are typically worn on a vest, belt, or wearable GPS unit attached to the player's body. The data collected from the GPS trackers provide valuable insights into player performance, workload, and physical condition. 
Q. Why do football players wear GPS trackers?
Football players wear GPS trackers to understand their performance and gather valuable data during training sessions and matches. This data help players to understand their workload, fatigue levels, and overall performance. 
Q. What are the GPS Wearables in football? 
GPS wearables in football are devices players wear to track and analyze their performance data using GPS tracker technology. This data helps team management, and sports scientists monitor player performance, assess fitness levels, and schedule training programs. GPS wearable Football Tracker has become an essential tool for making data-driven decisions and player development.
Q. What are GPS trackers in sports?
GPS trackers monitor players' performance and provide data based on the players' performance. 
Q. Is GPS trackers useful in sports?
Yes, it is a great addition to the world of sports to provide detailed information to teams, players, and fans. Players can enhance their game based on their performance, and fans can get into more details about their favorite players.