Hey, Emerging talents! It is time to get your game to the next level with the Sports Tech industry. The Sports Wearable Device can provide football analytics to enhance grassroots players' games. Now Grassroots Football can be managed by Sports Data Solution. Data has become an invaluable asset for athletes, coaches, and teams in the sports world. It offers insights, reveals patterns, and aids in performance optimization. Footrax, GPS Football Tracker, a cutting-edge sports data collection technique that gives players a competitive edge.
We will walk you through each stage of our data collection procedure while demonstrating the tools and methods that make Footrax a revolutionary sports analytics tool.
Sports Data Solution| Sports Data Collection Method
It is time to connect your Sports Tech device
Download the Footrax app from the iOS or Android App Store.

Create your profile.

Turn on the Footrax Classic Device.

Scan the Footrax device through your smartphone.
Using Footrax Steps
Before the match, ensure the Footrax device is buckled in the provided belt. 
Turn on the device and connect with the application by scanning the QR code at the back. Wait for the blue light. 
Choose or create your selected Venue. Refer to tutorials for any guidance.
After that, press the start button in your application. 
Step 1: Sports Wearable Device Sensor Technology 
The heart of our data collection process is our cutting-edge wearable sensor technology. These small, integrated gadgets track a variety of performance parameters for athletes. From GPS location and speed to acceleration, distance travelled, and even heart rate, these sensors provide a comprehensive snapshot of an athlete's performance on the pitch.
Step 2: Datasport Transmission 
Wearable sensors capture data, which is then sent to a central wireless system for transmission. It ensures that coaches, trainers, and athletes have rapid access to the essential insights created by the data. Our effective and flawless data transfer technology enables immediate analysis and feedback, empowering athletes to make quick decisions.
After the match, press the stop button in the application to end your session. 
A screen will pop up asking you about the match type.
Select a full match if you played on the same side the whole match, and if you have changed sides, then select split to get the accurate stats of the match. 
After you select the match type. The device will start syncing data in around 1-2 minutes at maximum. The application will automatically analyze your performance data. You will see the constant blue light on the device while the syncing process. 
Step 3: Sports Data Analytics and Visualization 
Footrax's data collection efforts are only as effective as the conclusions drawn from it. Because of this, we use sophisticated data analytics tools to analyse the raw data and identify important patterns and trends. Our sports scientists and data analysts use advanced algorithms and machine learning models to analyse the data and generate actionable insights. Athletes and coaches may easily understand and make use of the information after these insights are visualised through user-friendly and interactive dashboards.
Once the Sync is completed, a popup will appear stating that your data is synced. 
You can turn off your Footrax Classic Device now. 
Refresh the application once, and you will be able to see the recorded data in your sessions tab. (It might take up to 5 minutes to display your stats)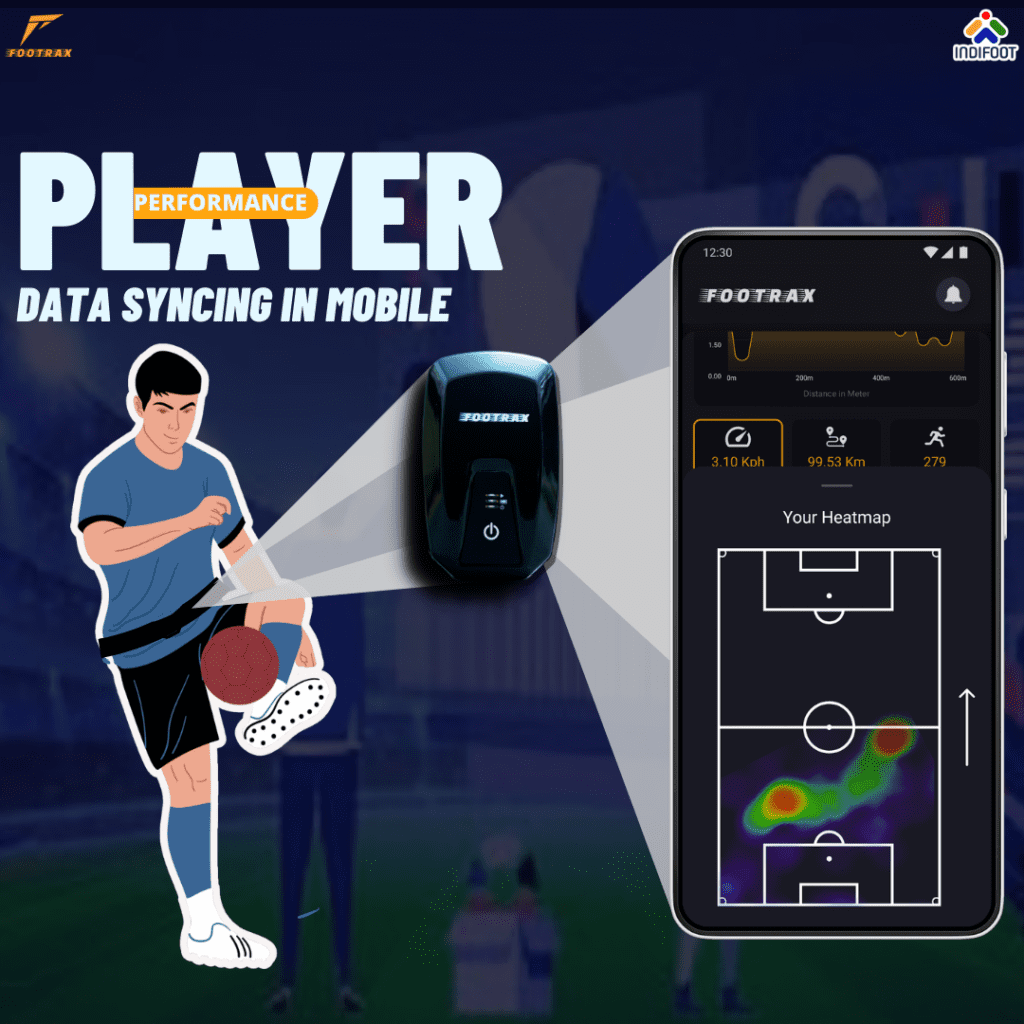 Step 4: Performance Monitoring and Optimization 
One of the primary advantages of our data collection technologies is the ability to track an athlete's performance. Coaches can pinpoint strengths, flaws, and opportunities for development by regularly tracking and analysing a variety of performance measures. It helps them to adjust training programmes, makes strategic judgements during competitions, and maximise an athlete's overall performance potential.
Step 5: Long-term Performance Analysis with Sports Tech Device
Footrax offers more than simply in-the-moment performance tracking. Our methods for gathering data enable long-term evaluation and evaluation of an athlete's performance over time. Footrax assists athletes and coaches in creating data-driven programmes for ongoing improvement by monitoring performance patterns, spotting advancements, and detecting areas of stagnation.
Grassroot Football Conclusion: Sports Data Solution
Data holds the key to maximising athletic potential in the world of sports. The sports data collection techniques used by Footrax provide teams and players looking to improve performance with a complete and cutting-edge Sports Data Solution. Sports Wearable Device technology gives athletes the resources they need to push boundaries and accomplish their objectives, including wearable sensor technology, real-time data transfer, sophisticated analytics, and long-term performance monitoring. Take your game to the next level by utilising Footrax and the power of data-driven performance.
Are you prepared to transform your athletic performance? 
To find out more about our cutting-edge datasport collection techniques and how they can improve your athletic experience, get in touch with Footrax right away.
Follow Footrax for more information and articles like that.